Lay Leader Training
March 21 @ 8:00 am

-

March 25 @ 5:00 pm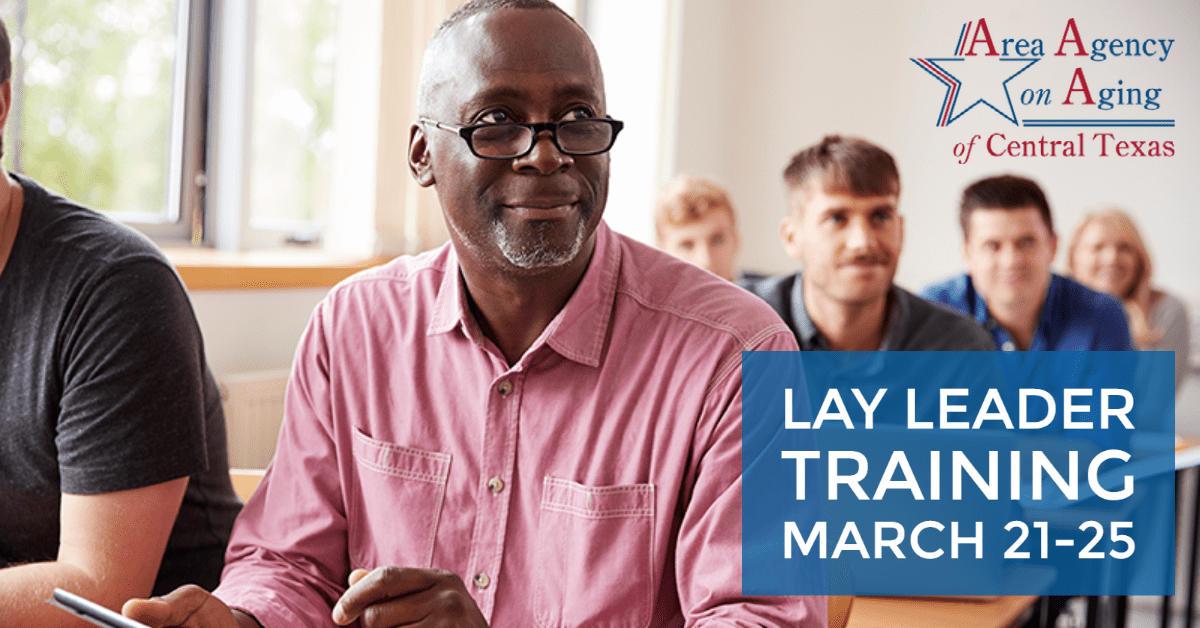 Learn how to become certified as a trainer, or lay leader, for the Area Agency on Aging of Central Texas (AAACT). This training is open to all residents in the seven counties served by AAACT including Bell, Mills, Milam, Coryell, Hamilton, San Saba, and Lampasas. Lay leaders will receive the training needed to teach one of our self-management classes including Chronic Pain Self-Management, Diabetes Self-Management, and Living a Healthy Live with Chronic Disease.
Based on the Chronic Disease Self-Management Education workshops developed at Stanford University, our self-management classes teach adults strategies to improve overall well-being. Chronic health conditions can lead to lower quality of life, loss of independence, increased use of health care services, and shortened life spans. As a certified lay leader, you will guide others in learning tools and methods to empower them to gain control of their health. Instructors receive payment of $250 upon completion of teaching a class series, but CTCOG does not cover mileage or time while teaching. Teachers may carpool with CTCOG instructor Theresa Mireles at no charge.
As a lay leader you will:
Educate and empower your community
Reduce health care costs
Learn from established, evidence-based programs
Build partnerships with community
Lay leaders is open to anyone 18 years and older. Training is free and there are no oher requirements to teach, but it's helpful to have the following:  good communication and interpersonal skills, enthusiasm and willingness to lead small groups, a heart to serve others, and availability to lead a workshop within 4-6 months. View current instructors on our Workshops and Training page and learn why they find teaching valuable, including this quote from Olga Farley, who decided to become certified after taking a Diabetes Self-Management Class:
I got so much from the class that I wanted to share and teach others about this chronic disease. I am personally moved by all the class participants and their stories, as well as seeing them make life-changing choices to better their lives. ~ Olga Farley
All lay leaders must attend all training days to be certified under CTCOG's training license. This week-long training will be held on March 21-24 at 8 a.m. to 5:00 p.m. and March 25 at 8 a.m. to 1 p.m. Classes are held in Room D9 at the Central Texas Council of Governments building, 2180 N. Main Street in Belton, TX. Breakfast, snacks, and lunch will be provided. For more information or to register, call Theresa Mireles at 254-770-2330 or toll-free at 800-447-7169.