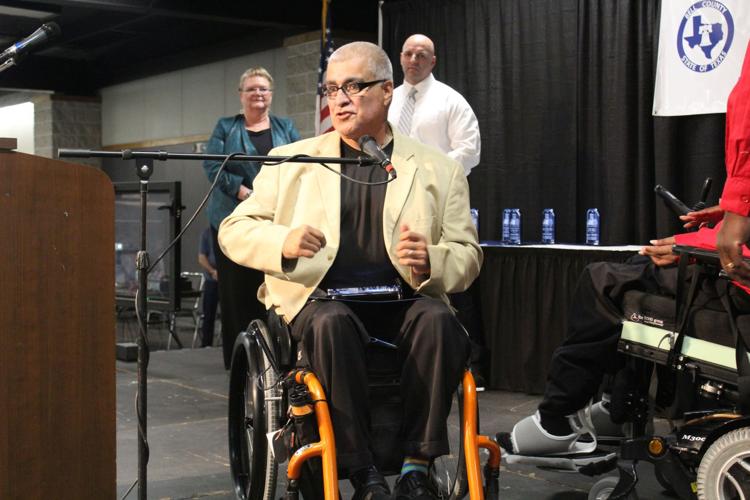 The Rusty Awards for 2018
Please join us in celebrating another fantastic Rusty Awards Event, congratulating 8 individuals who have made a difference in Bell County. The Rusty Awards honor those who inspire while living with a disability, bring notice to people with disabilities through advocacy and further the cause of people with disabilities. The awards will be presented at a ceremony 5:30-7:30 p.m. Tuesday, Oct. 16, at the Bell County Expo, 3101 W. Loop 121 in Belton.
We also will be honoring the memory of our friend Harry Wilson followed by the presentation of our Harry Wilson Athlete of the Year Award.
---
Awardee for the Rusty Awards for 2018
Kristi Tindell –  2018 Pat Elliott Inspirational Award, she is a Certified Behavior Analyst and Licensed Professional Counselor, she is the owner of Central Texas Behavioral Solutions in Killeen, she lives in Temple.
Deborah Lease – 2018 Bell County Judge's Meritorious Service Award, parent of a young adult with Autism, she started an organization called Social Branch which serves individuals with Autism of all ages and a volunteer in the field of disabilities.
Devon Flores – 2018 Harry Wilson Athlete of the Year Award, Devon has active participant for over 10 years with Special Olympics and has earned over 47 awards & medals.  He has also been awarded Student of the Month from Hay Branch Elementary School and with Union Grove Middle School.  He was recognized with Harker Heights High School Knight.
Daryl Winfree – 2018 John C. Garth Person of the Year Award, he is a foster parent of children and youth who are faced with various unique challenges and disabilities, he serves as an inspiration to the children.  He shares his wisdom and uplifts those around him, he also has a disability and battles kidney disease.
Sohn Stancell – 2018 Employer of the Year Award, Director of Service Solutions, housed at the University of Mary Hardin-Baylor and an extraordinary person.  He is an employer of many individuals with disabilities and a strong encourager. He continues to hire the students once they complete the SEAL Program and he participates in the WIOA program with Texas Workforce.
Chris DeGraaff – 2018 Laura "Pat" Taylor Advocate of the Year Award, Chris is legally blind, lives in Temple and a strong Advocate for services for persons with disabilities.  Recently he was active with the need for accessible public transportation in Temple. He is o a substitute teacher in Temple and the students have all very good things to say about Mr. DeGraaff as their teacher.
Tom Elmore – 2018 Jennifer Phillips Award for Courage, Tom is the Career Center Supervisor at the Central Texas Workforce Center in Temple.  He is an amputee due to the lost his right arm in an industrial accident, however, he has demonstrated the "can do" attitude and motivates other to move forward.
Kelly D. Baylan – 2018 Shirley Biels Health Care Worker of the Year Award, she is Board Certified Psychiatrist and works as Staff Psychiatrist Warrior Transition Unit Fort Hood, Texas, and the President of the Baylan Wellness.   She works with the WTU Soldiers with PTSD aggravated by deployments and traumas.  She was recognized in an article in the Texas A&M alumni magazine, selected for the 2018 Young Alumni Spotlight.  Dr. Baylan works with Hope Happens, a suicide prevention organization in Central Texas.