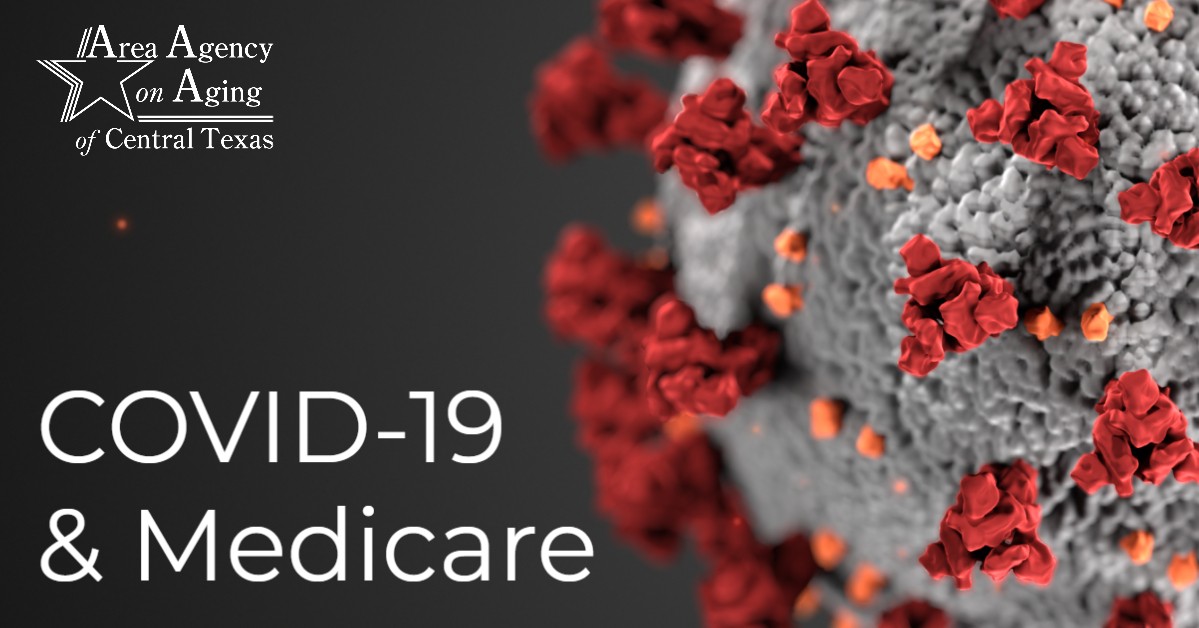 What You Need to Know About Medicare and COVID-19
This publication created and produced by Texas Legal Services Center with financial assistance in whole or in part through a grant from the Administration for Community Living.
Medicare Covers COVID-19 Testing
Medicare Part B covers diagnostic testing, including testing for COVID-19 (commonly known as the "coronavirus"). Tests ordered by your doctor or other healthcare provider and done on or after February 4, 2020, will be covered by Medicare. However, your provider may have needed to wait until April 1, 2020, to submit the claim to Medicare.
Medicare Beneficiaries Now Have Access to Telehealth
Many of the prior restrictions on telehealth services have been lifted. Medicare beneficiaries are now able to access a range of services via telehealth, minimizing the need to travel to a provider's physical office location. Visits after March 6, 2020, are covered under this emergency order.
Medicare Beneficiaries Can Still Apply for Benefits
Medicare beneficiaries are urged to use YourTexasBenefits.com or their mobile app to apply for benefits during this time. Using these online resources mitigates the need to meet face to face when researching and applying for benefits through your local Area Agency on Aging.
Medicare Fraud and Scams in the Age of COVID-19
In light of the COVID-19 pandemic, many scammers have been playing on the fears of Medicare beneficiaries. Notable scams include requesting a beneficiary's Medicare card and other information in order to send masks, gowns, fake testing kits, and other supplies. Do NOT give out your Medicare card information to anyone.
Resources for COVID-19
Medicare beneficiaries can dial 2-1-1 (option 6) for resource help. This number can provide information on utilities, food, local resources, and more. The website www.coronavirus.gov may also assist beneficiaries in answering commonly asked questions.
For more information or to receive personalized assistance, call your State Health Assistance Program (SHIP) at: 1-800-252-9240.
Click here to download the Medicare and COVID-19 Flyer in English and Spanish.
Que Necesita Saber Sobre Medicare y COVID-19
Medicare Cubre los Exámenes de COVID-19
Medicare Parte B cubre las pruebas de diagnóstico, incluyendo las pruebas de COVID-19 (comúnmente conocido como "corona virus"). Medicare cubrirá las pruebas ordenadas por su médico u otro proveedor de atención médica, que se hayan realizado a partir del 4 de febrero de 2020. Sin embargo, es posible que su proveedor haya tenido que esperar hasta el 1 de abril de 2020 para presentar el reclamo a Medicare.
Los Beneficiarios de Medicare Ahora Tienen Acceso a Telesalud
Muchas de las restricciones sobre los servicios de telesalud se han eliminado. Los beneficiarios de Medicare ahora pueden acceder a una variedad de servicios a través de telesalud para minimizar la necesidad de trasladarse al consultorio del doctor. Las visitas después del 6 de marzo de 2020 están cubiertas por esta orden de emergencia.
Los Beneficiarios de Medicare Todavía Pueden Solicitar los Beneficios
Se recomienda a los beneficiarios de Medicare a que usen YourTexasBenefits.com o su aplicación móvil para solicitar beneficios durante este tiempo. El uso de estos recursos en línea mitiga la necesidad de visitar personalmente cuando se necesita información o para solicitar los beneficios a través de us Agencia local (Area Agency on Aging en inglés) (AAA).
Fraude y Estafas en Época de COVID-19
En esta época de pandemia de COVID-19, muchos estafadores se han aprovechado de los temores de los beneficiarios de Medicare. Las estafas más notables incluyen solicitar la tarjeta de Medicare y más información personal para enviar máscaras, batas, kits de prueba falsos y otros suministros. Recuerde, NO proporcione la información de su tarjeta de Medicare a nadie.
Recursos para COVID-19
Los beneficiarios de Medicare pueden marcar 2-1-1 (opción 6) para obtener más ayuda. Este número puede proporcionar información sobre servicios públicos, alimentos, recursos locales y más. El sitio web
www.coronavirus.gov también puede ayudar a responder más preguntas.
Para obtener más información o para recibir asistencia personalizada, llame a su Programa Estatal de Asistencia de Salud (SHIP) al: 1-800-252-9240.
Esta publicación ha sido creada y producida por Texas Legal Services Center con asistencia financiera en su totalidad o en parte, a través de una subvención de la Administración para la Vida Comunitaria.