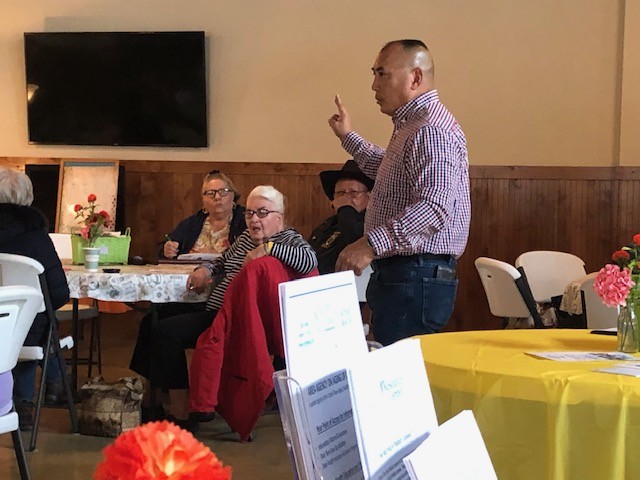 2019 Town Hall Meetings Wrap Up
The 28 Texas Area Agencies on Aging conducted a series of town halls to collect opinions from community members about what matters most to the older adults and caregivers who live in our region. Responses will guide the Area Plans for Aging Services and help determine the programs and services offered. Some of the important issues discussed at our regional town halls included:
Transportation – how to improve transportation concerns for older adults and working to resolve issues regarding public transportation. Some issues discussed were bus stops being moved due to construction which added an extra mile of walking to their destination. The HOP also has an ADA-accessible fixed route and rural route, a resource that is shared through AAACT.
Nutritional health – how to help those who are living in a food desert with limited access to fresh produce and affordable, nutritious food. Community gardens were also mentioned along with the location of the garden at Temple Housing. Transform Temple is also a resource to rent out gardening tools at no cost.
Health care – increasing dental, vision, and hearing assistance and services. Residents reported the need for more braille signage and help with getting to sign language classes. Other health care concerns included access to affordable health care and help with high insurance co-pays.
Mental health – how to improve services for mental health. Central County Services was shared as a good resource for behavioral and developmental needs for the five of the counties in the AAACT region. The University of Mary Hardin-Baylor also offers community counseling sessions at low costs, but they will also not turn anyone away if they cannot afford it.
Respite care – how to find care for loved ones for short periods during the day. AAACT is a great resource to learn more about finding respite care and short-term care in the region.
Technology – how to protect older adults from phone and internet scams and ways to improve technology skills. Residents suggested providing mobile help to those in rural areas, and a basic computer skills orientation video from Edith Cowan University on YouTube was shared.
Thank you to all who attended our town hall meetings and provided your feedback. If you have concerns or questions on the resources discussed, please call the Area Agency on Aging of Central Texas main office at 855-937-2372 or 254-770-2330.