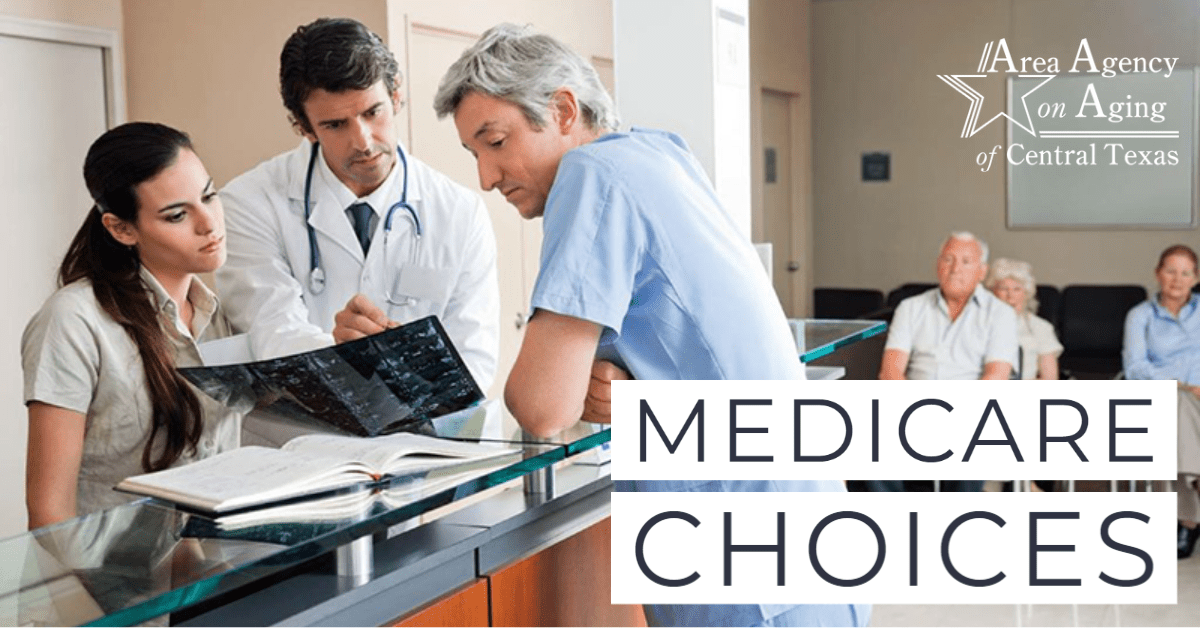 Understand Your Medicare Coverage Choices
You have options when it comes to how you get your Medicare coverage.
The two main ways are Original Medicare or Medicare Advantage.
When choosing which coverage is right for you, consider:
COST
Original Medicare:  You pay a monthly Part B premium, and any copayments, coinsurances, and deductibles. There is no limit to how much you can pay out of pocket, but you can buy a Medicare Supplement Insurance (Medigap) policy to help.
Medicare Advantage:  You pay the monthly Part B premium plus the plan's premium (if they have one). You also pay any copayments, coinsurances, and deductibles, but once you reach the plan's yearly maximum, you will pay nothing for health services for the rest of the year.
COVERAGE
Original Medicare: Covers services and supplies in hospitals, doctors' offices, and other health care settings under Part A (Hospital Insurance) or Part B (Medical Insurance).  You can add drug coverage by joining a Medicare drug plan.
Medicare Advantage Plans: Must cover all services and supplies that Original Medicare covers and most include drug coverage.  They may also have extra benefits like dental or vision.
DOCTOR AND HOSPITAL CHOICE
Original Medicare: You can go to any hospital and use any doctor that accepts Medicare.
Medicare Advantage: You may need to use doctors and hospitals in that plan's network.
It is important to understand your options so you can get the coverage that is right for you.
TAKE ACTION
| | |
| --- | --- |
| 1. | Use Medicare Plan Finder (Medicare.gov) or call 1-800-MEDICARE to compare Medicare Advantage or Part D plans in your new area. |
| 2. | Contact the Area Agency on Aging of Central Texas, your local State Health Insurance Assistance Program (SHIP) at 254-770-2330 or 800-447-7169, for information and/or assistance about Medicare, Medicare Savings Program, Extra Help, Medicare Advantage or Part D plans. |
| 3. | Contact your State Health Insurance Assistance Program (SHIP) at 877-839-2675 to learn about cost assistance programs and Medigap enrollment rules in the state to which you are moving. |
| 4. | Contact your Senior Medicare Patrol (SMP) at 1-888-341-6187 or 713-341-6184, to report potential Medicare fraud or abuse. |
SOURCE OF INFORMATION:  Medicare.Gov
UPCOMING EVENTS:
September 28th, 2021:  BELL COUNTY SENIOR EXPO, 8:30 a.m. to 12 p.m. at Bell County Expo Center in Belton, TX
October 15th – December 7th, 2021:  MEDICARE OPEN ENROLLMENT
Area Agency on Aging of Central Texas – A partner agency of the Central Texas Aging, Disability & Veterans Resource Center
2180 North Main, P.O. Box 729, Belton, Texas 76513. 254.770.2330 or Toll-free 1.855.937.2372
The Area Agency on Aging of Central Texas is funded in part by Texas Health and Human Services
Download the flyer:  Understanding Medicare Choices Aug 2021